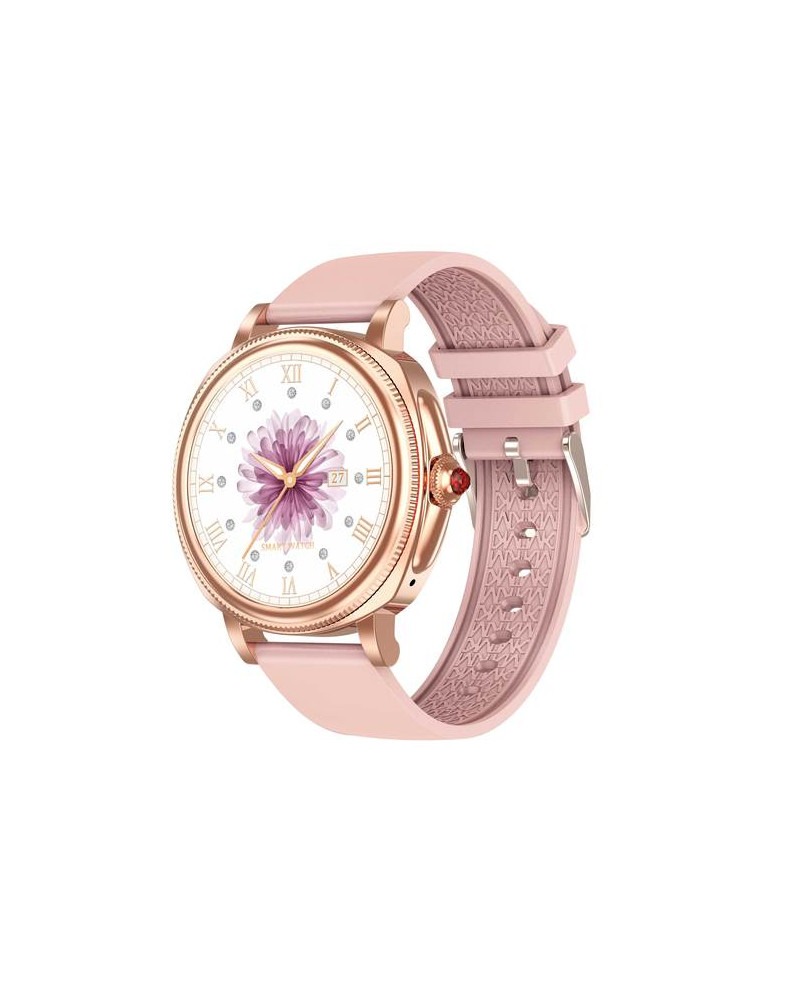  
SWM W01
Security policy
We only use direct payment gateways, no third parties are involved.
Delivery policy
We ship within 2-4 ddays.
Return policy
Products can be returned within 14 days.
Introducing the SWM W01 Women's Smartwatch - The Perfect Companion for Today's Active and Stylish Women!
Designed with elegance and functionality in mind, the SWM W01 smartwatch combines sleek aesthetics with advanced features to enhance your daily life. Available in both silver and gold variants, this smartwatch offers a stunning timepiece for every style. Choose from a range of strap options including gray silicon, silver milan, multi-color milan, pink silicon, or gold milan, to match your personal taste and outfit.
Featuring a vibrant 1.1" display, the SWM W01 allows you to effortlessly navigate through its numerous clockfaces, allowing you to customize your watch to match your mood and style. Whether you prefer a classic look or a bold design, this smartwatch has the perfect clockface for every occasion.
Equipped with a long-lasting battery, the SWM W01 ensures you stay connected throughout the day with a battery life of 3-4 days. Say goodbye to constant charging and enjoy the convenience of a wearable device that keeps up with your busy lifestyle.
Connectivity is made seamless with the Da Fit app, allowing you to effortlessly sync your smartwatch with your smartphone. Stay up to date with notifications, track your fitness goals, and monitor your health with ease, all from the convenience of your wrist.
The SWM W01 features a user-friendly touch screen interface, making it easy to navigate through menus and access your favorite apps and functions. Whether you're answering calls, checking your heart rate, or monitoring your sleep rhythm, the touch screen ensures a smooth and intuitive user experience.
While the SWM W01 is splash-proof, it is important to note that it does not have a specific water resistance rating. It is suitable for everyday activities but should be avoided in situations involving full immersion in water.
Stay connected and never miss a beat with the call function on the SWM W01. Answer or make calls directly from your smartwatch, ensuring you stay connected even when your phone is out of reach.
The SWM W01 goes beyond basic fitness tracking, with integrated heart rate and blood oxygen sensors. Keep a close eye on your health and make informed decisions about your well-being. Additionally, the smartwatch also features menstrual cycle monitoring, allowing women to track and understand their menstrual cycles for better health management.
The SWM W01 comes with innovative milan straps that feature a magnet closure. This unique design makes it incredibly easy to adjust the strap to the perfect fit around your wrist. Say goodbye to cumbersome buckles and enjoy a hassle-free experience when sizing your smartwatch strap.
Experience the perfect blend of style and functionality with the SWM W01 Women's Smartwatch. Stay connected, track your health, and elevate your fashion game all with one stunning timepiece.

Data sheet
Smartwatch type

Companion

Case material

Metal

Display size

1.1"

Strap type

18mm (changeable)

Battery life

3-4 days

App to connect

Da Fit

Device operation

Touch screen

Water risistance

Splash proof (no rating)

Call function

Yes

Heart rate sensor

Yes

Blood oxygen sensor

Yes

Monitor sleep rhythm

Yes

Menstrual cycle monitoring

Yes

GPS

No