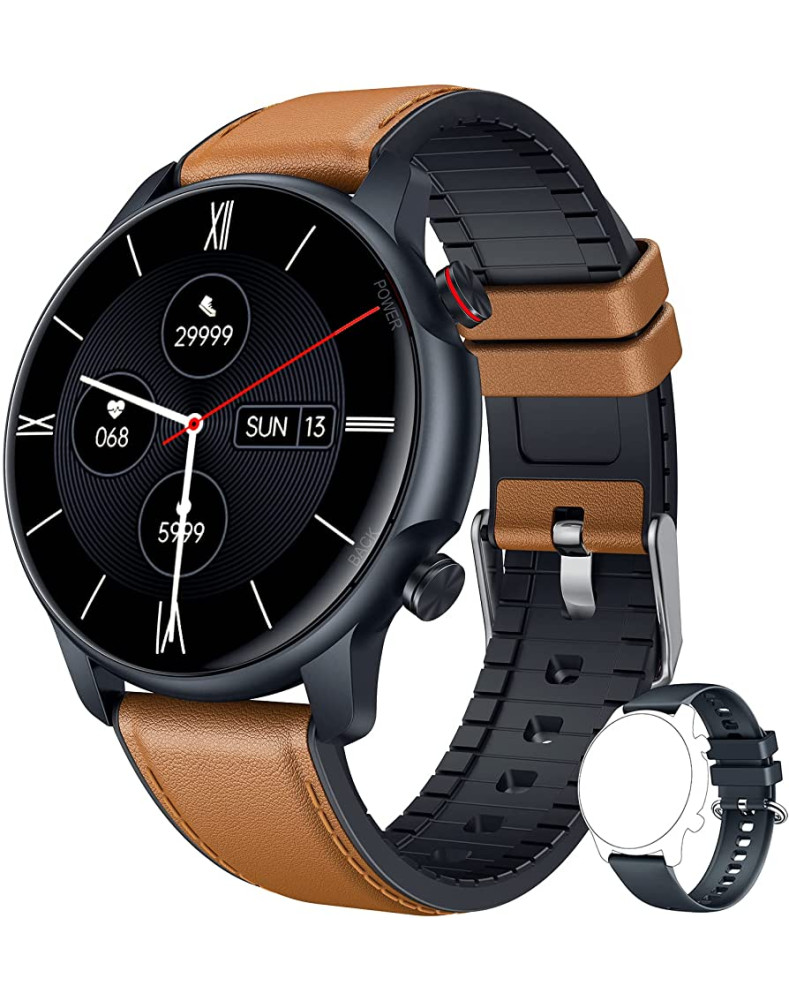  
SWM M01
Security policy
We only use direct payment gateways, no third parties are involved.
Delivery policy
We ship within 2-4 ddays.
Return policy
Products can be returned within 14 days.
Introducing the SWM M01 Smartwatch: The Ultimate Companion for Men

Elevate your style and embrace the power of technology with the SWM M01 Smartwatch, designed exclusively for men who value both fashion and functionality. With its timeless black metal case and customizable strap options, this smartwatch is a must-have accessory for the modern gentleman. Stay connected, track your fitness goals, and make a bold statement with this sleek timepiece on your wrist.

Crafted with precision and attention to detail, the SWM M01 Smartwatch features a durable metal case that exudes sophistication and durability. Its classic black finish adds a touch of elegance, ensuring it effortlessly complements any attire, be it formal or casual.

Choose from a range of premium leather straps to match your personal style. Whether you prefer the timeless black leather or the distinctive brown leather, the SWM M01 offers options that cater to your individual taste. The leather straps feature a comfortable silicon interior, providing a seamless blend of luxury and comfort.

For those who prefer a more vibrant and sporty look, the SWM M01 also offers a variety of silicon straps in black, dark blue, light blue, red, and pink. These colorful options allow you to express your mood and personality effortlessly. Additionally, the black Milan strap provides precise adjustability, ensuring a perfect fit for your wrist.

The SWM M01 Smartwatch boasts a 1.6-inch display that delivers crystal-clear visuals, making it easy to navigate through various apps and features. Whether you're checking notifications, tracking your fitness progress, or exploring its numerous functionalities, the vibrant display ensures optimal readability in any lighting condition.

Stay connected throughout the day with the SWM M01's impressive battery life. With up to 3 to 4 days of usage on a single charge, you can focus on your daily activities without worrying about running out of power. Whether you're attending business meetings, hitting the gym, or enjoying a night out, this smartwatch keeps up with your busy lifestyle.

The SWM M01 Smartwatch seamlessly pairs with your smartphone via the Da Fit app, allowing you to stay connected and in control. Receive notifications, manage calls, and control your music directly from your wrist. The intuitive touch screen interface ensures effortless navigation, enabling quick and easy access to your favorite features.

Designed to withstand everyday exposure to water, the SWM M01 Smartwatch is splash-proof, providing protection against splashes, rain, and sweat. While not rated for full submersion, it offers peace of mind during your active lifestyle.

Monitor your health and fitness goals with ease using the built-in heart rate sensor, blood oxygen sensor, and sleep rhythm monitoring feature. Stay informed about your vital signs in real-time, optimize your workouts, and gain insights into your sleep quality.

Elevate your style and embrace the power of technology with the SWM M01 Smartwatch. Stay connected, track your fitness, and make a bold statement with this indispensable companion on your wrist. Upgrade your watch game today and experience the perfect blend of fashion and functionality.

Data sheet
Smartwatch type

Companion

Case material

Metal

Display size

1.6"

Strap type

20mm (changeable)

Battery life

3-4 days

App to connect

Da Fit

Device operation

Touch screen

Water risistance

Splash proof (no rating)

Call function

Yes

Heart rate sensor

Yes

Blood oxygen sensor

Yes

Monitor sleep rhythm

Yes

Menstrual cycle monitoring

No

GPS

No